SPEAKER. DO YOU WANT TO WORK WITH A BUREAU?
I met the Expert Michael Kerr at CAPS Vancouver Convention 2018. Here are my notes from his intensive session: The ins, outs, ups, downs & sideways of working with Speaker Bureaus.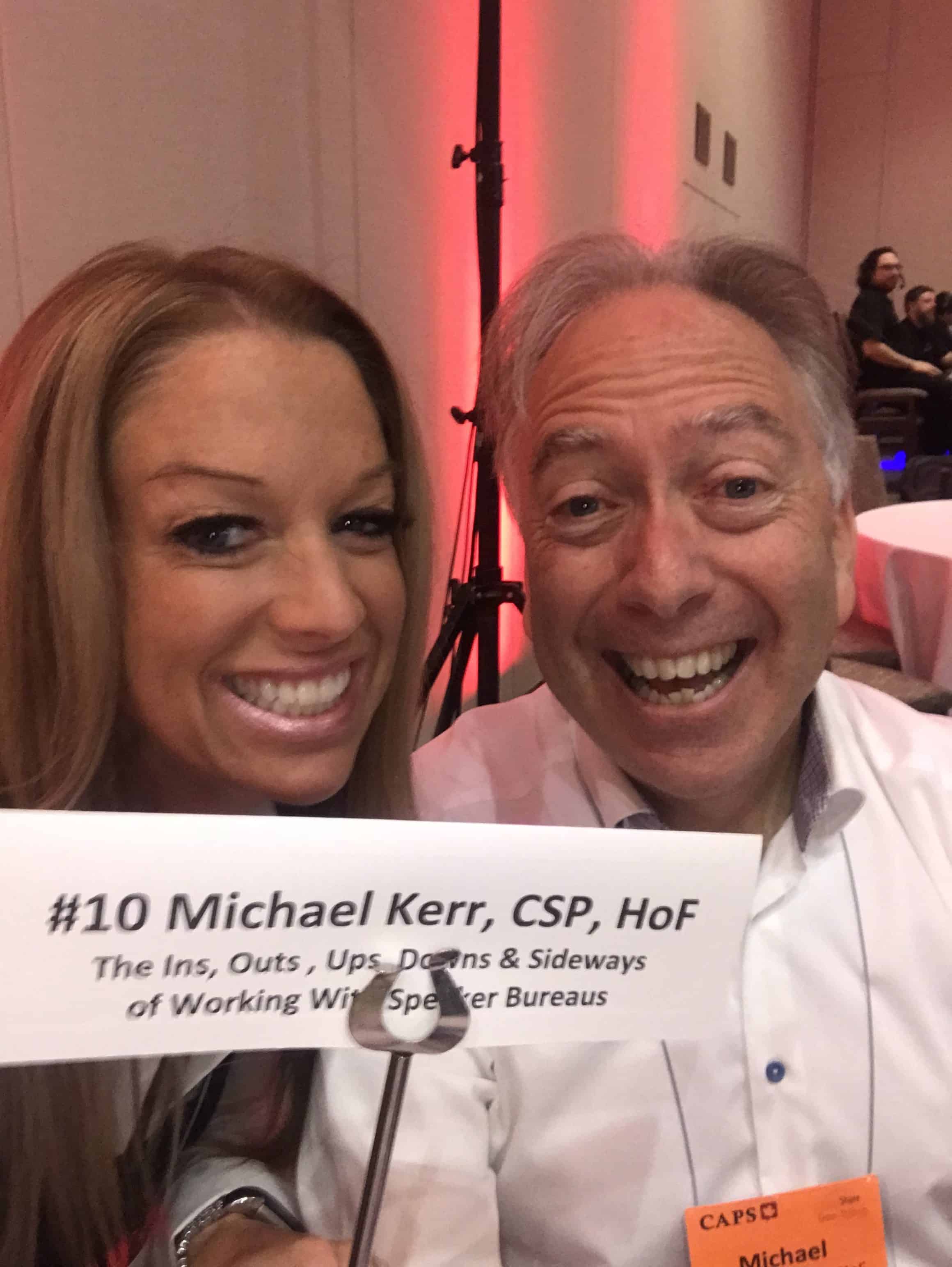 There are about 15 in Canada. Michael is represented by about 20 bureaus around the world. Some are exclusive, some do represent free agents. He highly recommends Speaker Spotlight, who deliver the best incredible experience.
Expect to pay 25% to 30% commission. You can negotiate that, it's a partnership, don't be aggressive about it but make sure you take control of your own career. They are the icing on the cake, don't lose track of your own business. Speaker's bureaus cannot exist without us, we can exist without them. Any referral has to go back through them.
People at Speakers bureaus will not look at you until you are busy enough that you don't need them. It is a catch 22. Most bureaus will not look at you until you charge about $3000 to $3500. Michael always charges more for the US. The bureaus don't get commissions on books, just on your speaking fee.
They will never represent you until they have seen you in action. Invite them to come to see you in action. Ask for a referral from another speaker and or client.

UPSIDE
Do the marketing for you
Credibility piece
They find the clients you may not otherwise find
Get you in cool destinations
Hand out all the pre-screening
Handle contracts, logistic, set up, AV, travel, can book it for you. (Michael books his own travel).
If you get sick, they have roaster of a speaker to replace you.
Handle your US visa requirement
Can get you some showcases.
DOWNSIDES
Loose 25% to 30% per talk. If you are good at marketing.
You deal with a middle person between you and the client.
Can be harder to get a repeat engagement
You can get complacent about doing your own marketing and then you are not the hot commodity and if your eggs are all in the same basket, you are not ahead.
TO-DOs
Find out if they are a niche type
Exclusive or not
Charity work they do
Go through their blog.
Offer to write a blog post for their blog.
Interview someone from a speaker's bureau for an article or a video, etc.
Be crystal clear on your fee structure. US vs. Can. Be clear on offer, messaging, value proposition. Explain to them what speakers you are like and how you are different from them. Identify who you compare to that they already represent. What would be your niche compared to them?
Have a great video. You have to have a great video. Get the stars aligned. Get a good demo video. Speakers bureaus go on YouTube so make sure you have a channel with your stuff on it.
Have a good clean marketing speaker kit.
Bureau friendly package, put their logo on it.
Help them, educate them on you, agent by agent. So that they go beyond being a google search engine.
Want to be a good match for them.
Ask them how they like to work.  How they build travel.
Be easy to work with.
Be accessible and responsive.
Respond very promptly.
Do not ever ever ever send them your stuff unsolicited.