DO YOU WANT TO GENERATE REPEAT BUSINESS?
I had the privilege to meet the expert Speaker Jeff Mowatt, CSP, HoF at CAPS VANCOUVER CONVENTION 2018 in December at the Westin Vancouver. Here is what he had to say on Generating Repeating Business Spinoffs and Testimonials.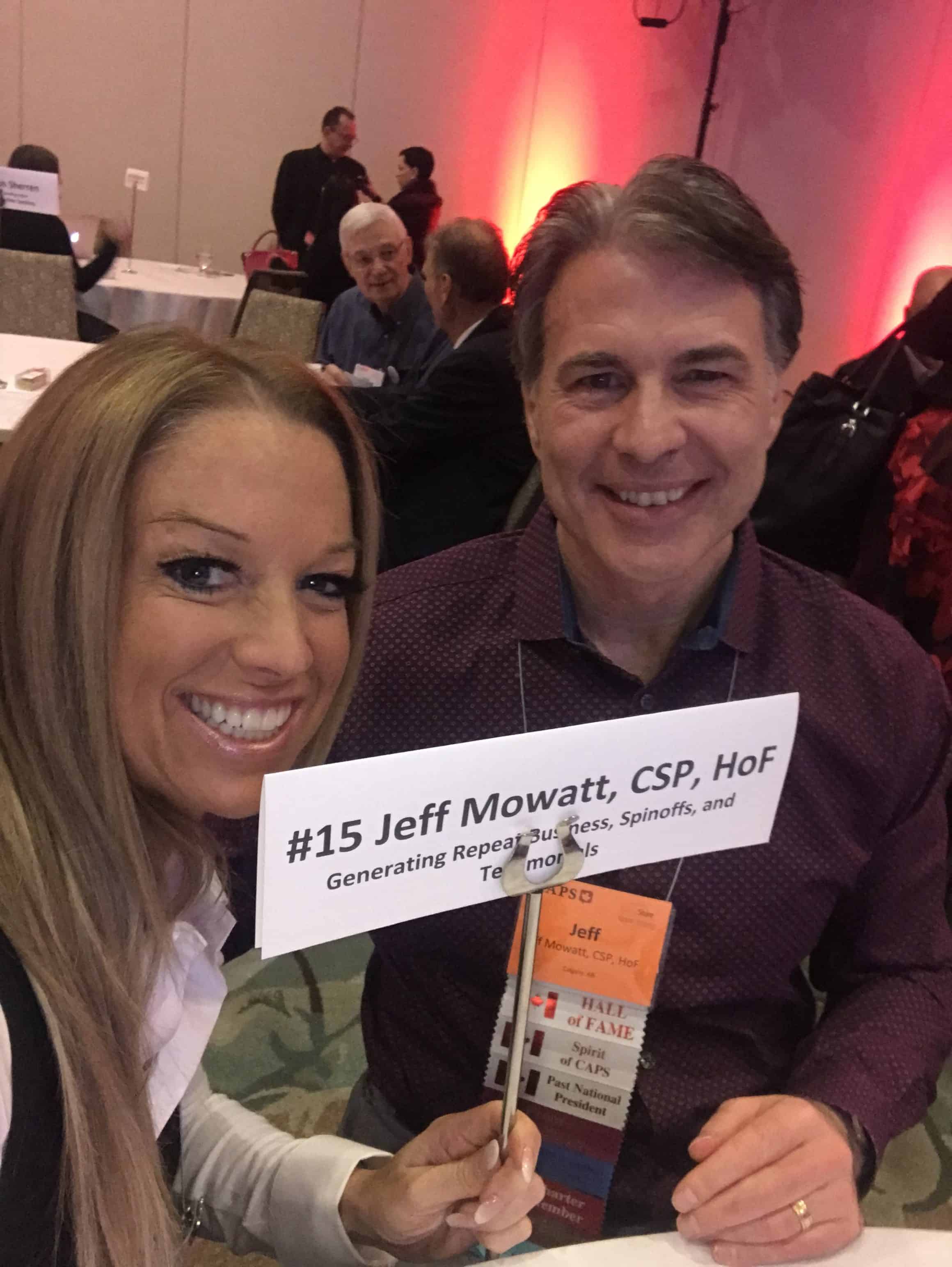 The Speaking Business is easy to come in and harder to stay in. Here are Jeff's tips on what to do before, during and after a presentation to generate repeating business.
BEFORE A PRESENTATION
Proposal for getting booked: people remember three, don't give them more than 3 options.
Jeff always negotiates three phases right away, instead of booking only one presentation or training.
Phase 1 The actual training or presentation
Phase 2 Built-in tools (a years' worth of training giveaway)

Phase 3 The second training or presentation (we will come back next year and look at such and such.)
All three phases are discussed right away at the time of the first booking.
In the introduction: make sure the presenter uses the line:  "Todays' presentation is phase one of three-phase seminar's series." Also, to ensure other business bookings add:  "Jeff does normally onsite customized presentations and work for small and medium-size companies"
DURING A PRESENTATION
Jeff will talk about working with a client: 'give a tip about features and benefits' about a third of the presentations I do are for associations…. A third is onsite for small businesses… A third is own public seminars …. Throw these one-liners so that people can recognize themselves and come ask for it after the presentation.
Make people share a good idea that they will implement so that the meeting planner ears it and notices how you were making a difference. So that you show that you gave real value.
Perceived Value: You want to make them talk about you. Jeff makes them talk about the next steps: "If you are here because your supervisor has paid for you to be here, go back and proactively tell them one thing that you learned so that they continue to bring people like me for this. I have been paid already, so it's not gonna make a big difference for me, but it will make sure that your supervisor is continuing to invest in your personal development."
He also created a game: the Jeffoapady.
AFTER A PRESENTATION
Feedback forms. On the feedback form, it used to be: should we have Jeff back? And then he now added:  If yes, on which topic? And give them a multiple choice. Then summarize the feedback forms. Then he sends a courtesy followup and gives the numbers on the feedback forms.
Typical audience comments. Give each other's permission to use each other's logo.
He uses old school paper form when does workshops onsite.
Ask the participants to send an email to you and in the subject line, write:  I did it.  Then mention one thing that they learned in the body of the email. Then Jeff forwards all of this to the supervisor.