SET UP AND MAKE MONEY WITH ONLINE PROGRAMS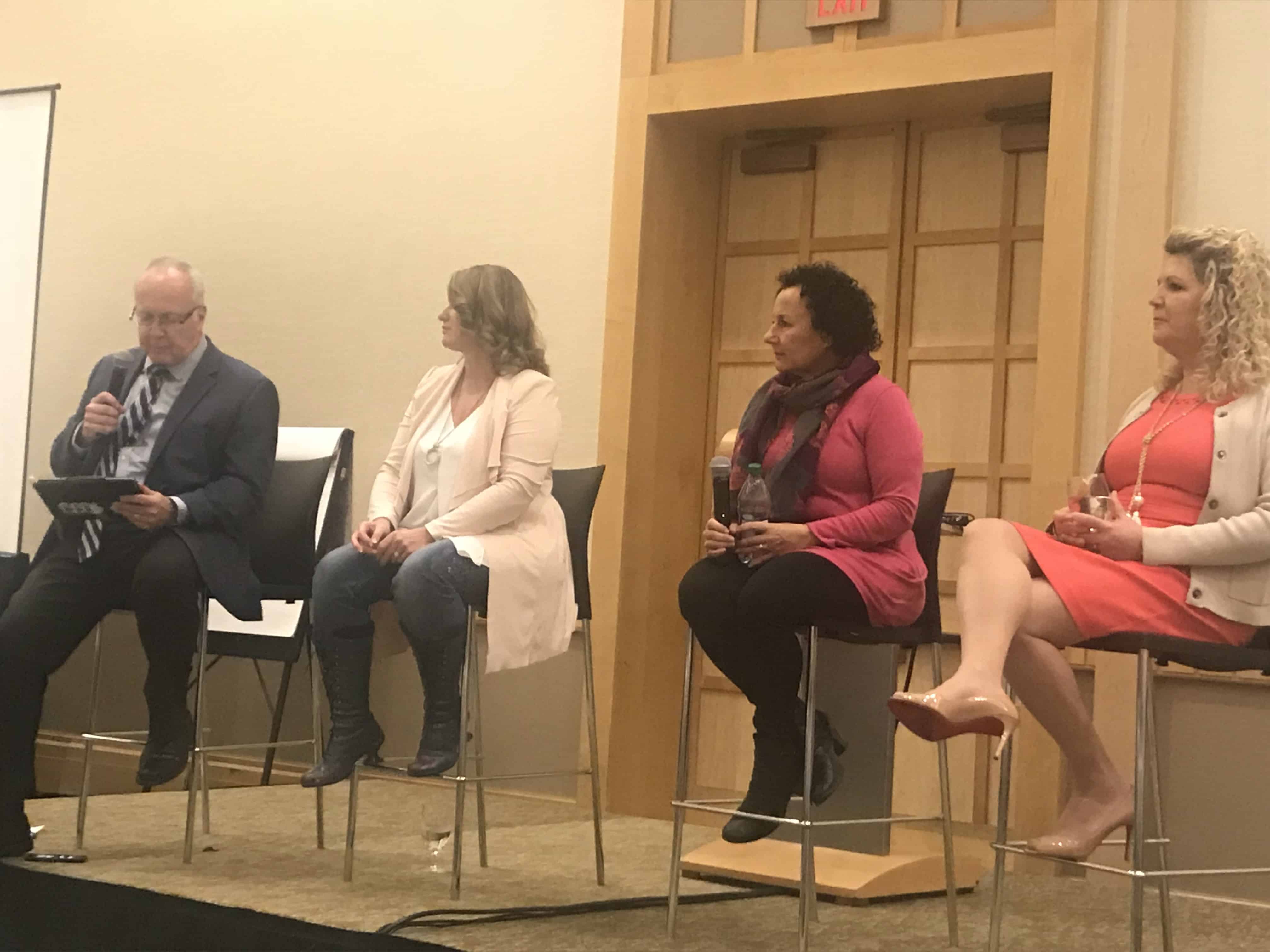 David Gouthro, Moderator extraordinaire, extracted extremely valuable content from experts Shelle Rose Charvet, Rhonda Scarf and Janet Stewart on online programs. Here are my notes from this amazing session at CAPS Vancouver 2018 called: E-LEARNING AND ONLINE PROGRAMS: HOW TO SET UP RUN MAKE MONEY AND PROVIDE VALUE – PANEL DISCUSSION
SHELLE ROSE CHARVET
Expert in: Sales platforms and Programs for women managers take over world.
She serves: Lots of independent trainers who want to get into digital business fast. Individual business leaders – women – Senior vp corporate sales
She suggested you focus on your business model, what are you selling?
Which model to use? It started when Laurie Flasko took her 10 days course and she said: too bad you don't have videos for us… then Shelle created content on video and the rest is history. She now has 600 trainers around the world teaching the material that she teaches. When she started, she went and tried it. So, do the same, just go and try it.
What is working with your business model and what doesn't work quite as well?
If you pick the wrong stuff it can cost you a lot of time. She had some bad experience. Rule of thumb: if someone doesn't deliver on their promise deadline twice, they are out. The demand for quality is going up. Most people read stuff on their phone. The quality needs to be really high.

Micro training, 1 thing per episode. Structure needs to make it easy to apply right away.
How do you find the people to do great design? Shelle subcontracts everything. She uses Upwork.com. Make sure you know exactly what you are asking for. You have to learn what you are looking for before subcontracting.
1 tip: don't believe people when they say: here's the one thing you need to know… if you are not in digital high quality by 2020, you will be gone… quality standards are going up.
Cost: read THE LEAN START-UP BY ERIC RIES.Put the minimum amount of time and energy before you test it with your market. Make sure it is working before you spend money with it. Put the minimum in and just start.
Shelle still uses Kajabi for an old course and had now switched all her new stuff to something else. She just left her old one there. She has bought her own proprietary system.
How do you find clients: B to C market: funnels, FB ads, conversion analytics.
One more thought:"Digital or die"
JANET STEWART
He business is 99.9% is digital, online.
Business model, what are you selling? Doesn't sell anything. She sells design services, good design to put online for them. Develop for other people's content. Add design principles to it and think of the way that the client will consume the material, how the learners will consume it at a desk or vs on their phone, etc.
Which model to use? How it started for her was that she had done her homework and found what a webinar was when it first came. After a huge snow storm cancelled an event, she offered people to do the event on the web. Then from there, she became a digital nerd. She just wants to play with technology and find out how to use them. You need to have a playful spirit.
What is working with your business model and what doesn't work quite as well? Be willing to go where people were afraid to go yet.  Most people don't take the time to play with the tools. Experiment. Always be learning.  Most tools have free trials and most are subscription-based so you try for a month and if it doesn't work, you cancel. Articulate storyline is the premier software for building e-learning these days.  The threshold for a course now is 2 minutes, they need microlearning, in 1 to 2 minutes. Content Duration is KING. Curate the content so that it is plain easy to access.
Balance between great content and great design. Example: death by powerpoint. Who is the learner? You are not in the same room as your learner. Think of you is delivering? You? a cartoon version of you? The design is everything.
1 tip: start with a bundled solution. Find a way to bundle it together.
Cost: Get a free version first, then buy the software once you know you like it.
Learning Management System. Shopping cart built-in. you only need that if you want to track client's completion. Then just post it on your website if you don't need to track whether or not they have done the course.
Create a communication strategy around the course so she knows that when we are not communicating, out of sight, out of mind, so the course goes flat when we stop promoting it. When they promote it, they see a spike, and halo effect so that people do other courses as well.
One thought:"Be playful"
RHONDA SCARF
Her business: Weekly webinar program – 1h every Thursday
Business model, what are you selling? Education, efficiency and effectiveness, charges $150 per person per webinar, she runs 48 per year, 6 figure per year, machine that runs one hour per week, VA full time job, someone speaks for an hour then it starts again the next week.
Which model to use? Teleseminar works well, webinar is working away. Webinar model will keep going.
What is working with your business model and what doesn't work quite as well?
It's cheap to get into and cheap to maintain. Fairly reliable. Most people are familiar with them.
There is so much noise in this world that you really have to differentiate in order to get noticed.
How do you find the people to do great design? Rhonda Relies on her delivery skills.
1 tip: Don't do it by yourself.
Cost: Can start free, on zoom account. She started with one webinar, use a free something before you do more.
Rhonda doesn't use any Learning management system (LMS) (like Kajabi, etc.)
Run ads every Tuesday to advertise next Thursday webinar, she markets 10 days out, over social medias, and have companies that buy one month and are regulars because she has been doing them for so long.
One thought:"Jump in and do it!"